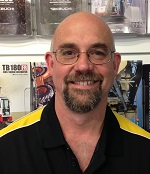 Ben Pritchard
Managing Director
Ben started his career in the family business as an apprentice diesel mechanic servicing a fleet of Bedford Trucks and maintaining the diverse range of production equipment. After qualifying as a mechanic he went on to the big boys' toys at Scania Trucks, later moving into sales. After Scania he recognised an opportunity in the forklift game and became the State Manager for Linde Forklifts here in South Australia.
With his knowledge of mechanics, sales and a desire to "be his own boss" he started BPF Equipment with his very tolerant, beautiful wife Terry. Together they built up BPF Equipment from humble beginnings to the diversified business you see today.
Straight to the point, Ben calls a spade a spade and sometimes has a grumpy awe about him but in fact has a good sense of humour – you do need to "dig" for it at times…. .
One thing that pricks Bens ears up is the sound of a rumbling V8. He has a rumbling V8 Ute but one issue that he faces is; if he took the dog, Terry would have to sit in the back!
Ben is passionate about his company and is always looking at options and equipment to better serve the customer.
Likes – Enjoys sales, time out at home on the farm. Dislikes – Inconsiderate drivers